The 5 Best Water Parks In The Algarve
You are in the Algarve and you have heard of the famous water parks that exist here, but as you have heard of several, you do not know which is the best. It is exactly to clarify this doubt that we created this top 5 of the best water parks in the Algarve! You only have to read a little about each of these and choose the one that seems most challenging to you!
A visit to a water park in the Algarve during the summer is almost mandatory. With families or friends, this is one of those experiences to remember later and that happiness takes possession of us throughout the day.
Waking up very early on one of those hot summer mornings when all you feel like doing is taking a dive… that is what you will do during this day, but nothing prevents you from having fun on some slides before diving into the water!
Make some sandwiches, get some juice and leave. By the time the park opens, you already have the ticket in your hand. Then, spend the rest of the day between slides and attractions and going to the towel to finally eat the sandwiches you have prepared. But if you want to sleep a little longer in the morning and don't have time to prepare snacks, don't worry, the parks usually have a restaurant area!
Now we just need to know which water park to go to in the Algarve, right? So let's start with our top 5!
1. Aquashow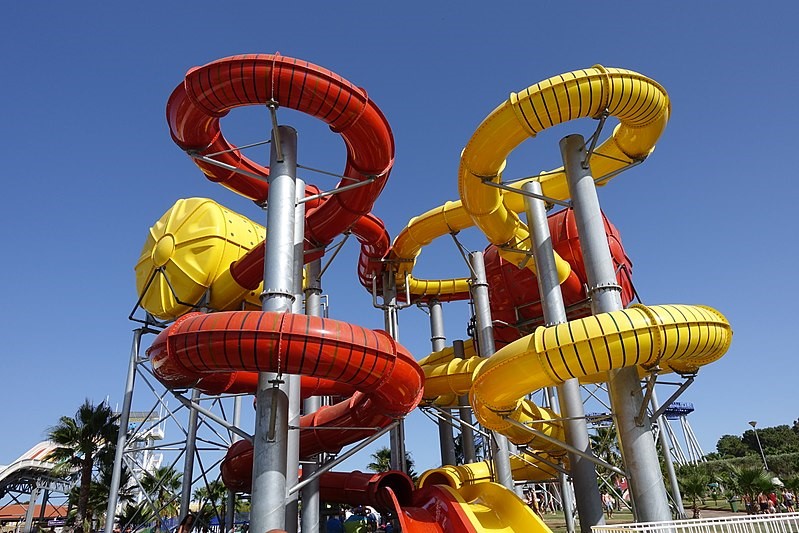 This is possibly the most complete of all water parks in the Algarve! In or out of the water, there is entertainment for everyone!
Aquashow is the most fun destination, especially for those who love to feel the adrenaline! In addition to a challenging roller coaster, this park is the home to the highest free fall in Europe! There are two slides 32 meters high. Impressive.
If you are a little more hesitant to venture into such attractions, aquashow also has several slides with less adrenaline, but which are still challenging. It is in this park that you can also relax in the largest wave pool in Portugal or in a relaxing jacuzzi!
That's why we recommend you to start your day early … so that you have time to experience all the attractions and, who knows, repeat them!
Read also: Living in the Algarve: all about sunny southern Portugal for expats
2. Slide & Splash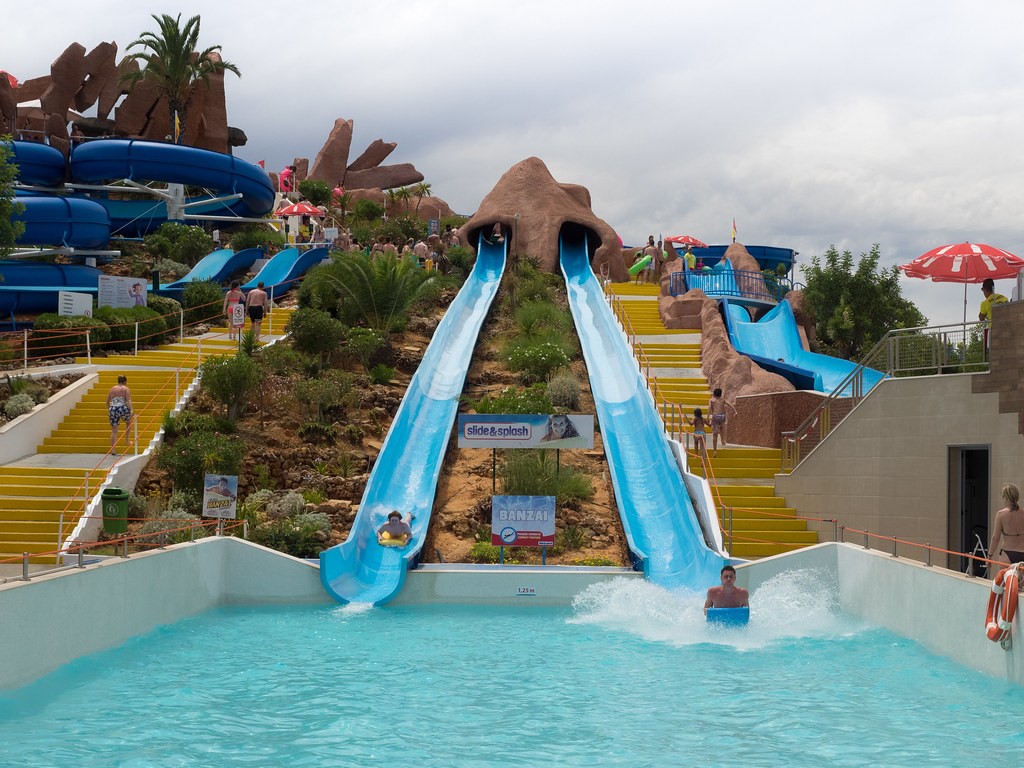 Slide & Splash is for those who love slides and water. In this water park all attractions end in the water!
The most curious thing about this water park is that it is all centered like an island. All you have to do is to go to the middle of the island … and decide which slide will you go down. But we recommend you not to think too much, because every slide is fun and if you do, you will regret it at the end of the day when you have not repeated all the slides you liked the most!
Among the best attractions of this park we highlight two: a closed slide and an open one.
When it comes to the closed slide, Slide & Splash has an attraction called "Black Hole" when descending on it in a float, in addition to the speed you reach… it is completely dark and therefore impossible to predict when or where it will turn!
As for our slide of choice, we highlight the on in the image above. In addition to the amusing idea that we come out of a dinosaur's nose, when descending this slide it reaches an exceptional speed!
Visit the park and draw your own conclusions.
3. Aqualand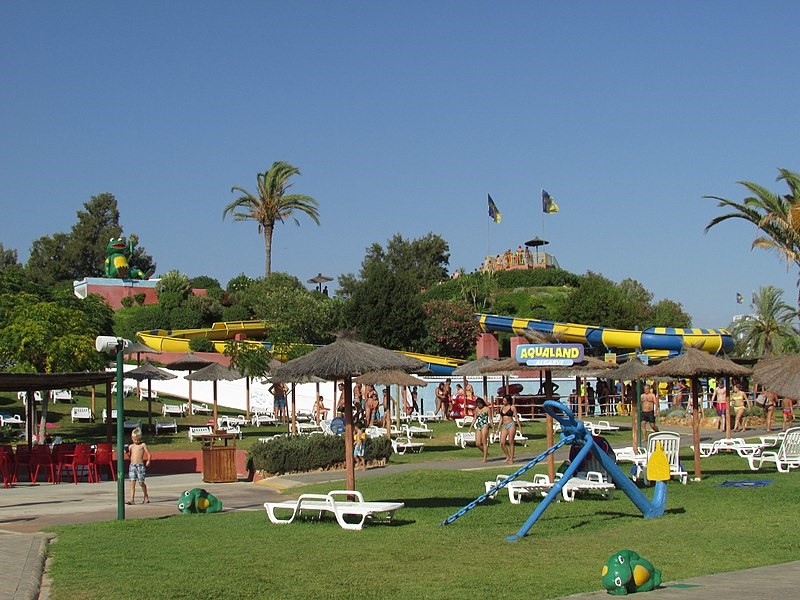 Aqualand has some of the most violent slides in the Algarve. One of its biggest attractions is the "Banzai", an incredibly steep slide that reaches an impressive speed. Only for the brave ones… are you one of them?
Also in this water park you can enjoy the 92 meter long "Kamikaze" slide. The best part is that there is more than one track, meaning you can compete with your friends to see who gets there first!
In addition to these more chilling tracks, there are also some calm attractions, such as the "congo river", a river where you can relax along 270 meters. It feels awesome!
The park also has an area for the little ones in a fun and long pool with some small slides, fountains and various animal figures!
4. Zoomarine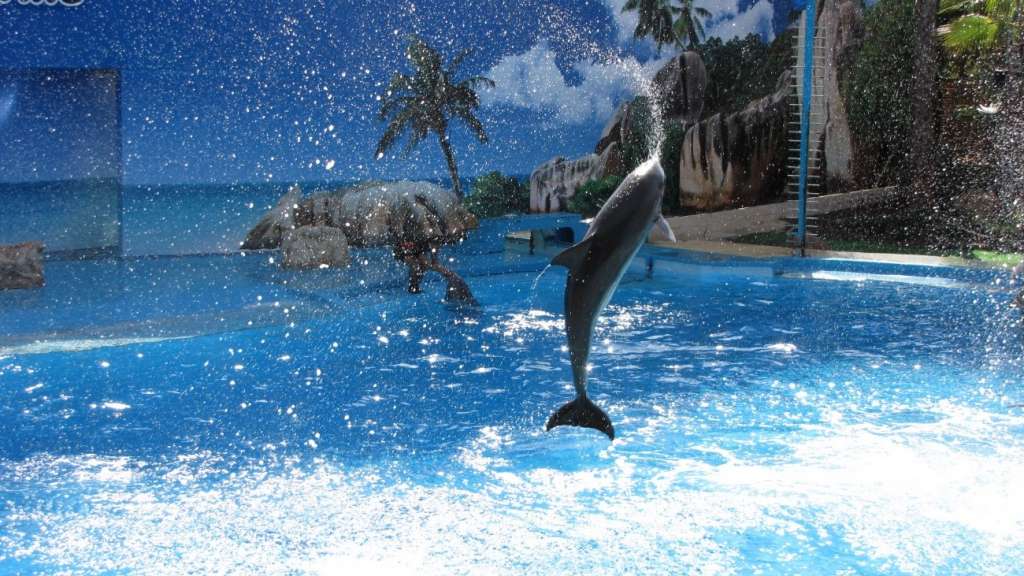 Slides, wild attractions out of the water, or more relaxing ones. Zoomarine has it all. But it brings the animals together.
At Zoomarine you can, besides riding a ferris wheel or a relaxing in a river, watch several animal shows! Have fun while watching the dolphins' acrobatics or the majestic flight of some birds of prey.
If you are very passionate about dolphins, Zoomarine offers some interaction packs with the friendly animals! You can swim with the dolphins and get to know their daily life. It is an experience like few!
5. Krazy World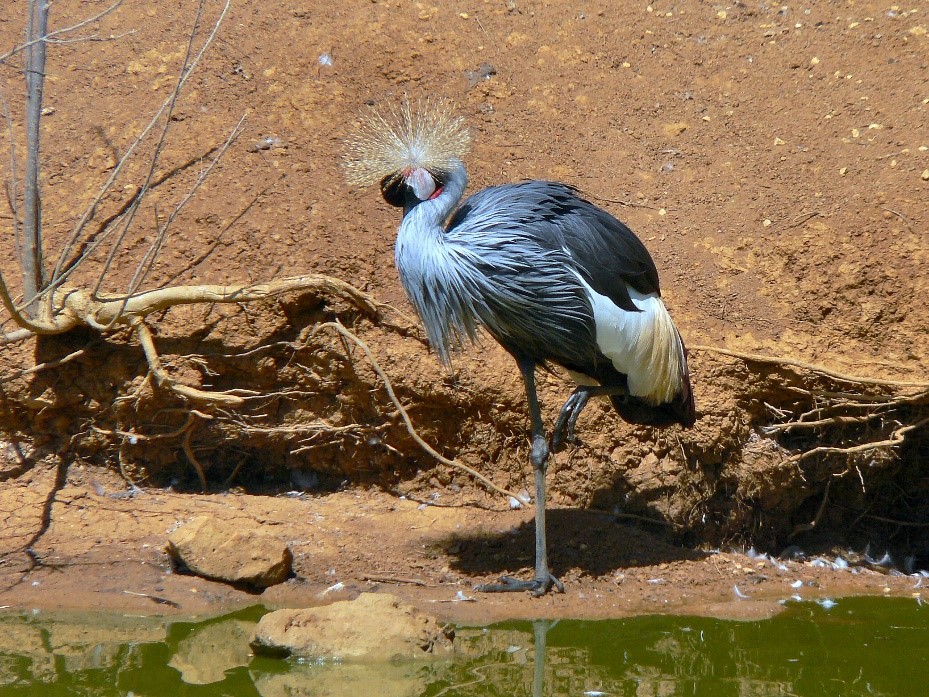 At Krazy World you will mostly find a Zoo. With animals of various species to observe as you explore the park, here you can spend a very pleasant day.
Reptiles, mammals and birds in the same park where you can have fun descending slides and taking a dive in the pool. The perfect match!
The park also has several spaces dedicated to the practice of paintball, golf and tree climbing! It is also here that you can plan a birthday party, a christening or a wedding, since the park encourages and allows these types of parties. Make a memorable party where you will have a little of everything.
Post written by Fábio Coelho.
I was born in 1998 and I'm from Portalegre, but I live in Albufeira. I am currently finishing my degree in Communication Sciences, at the University of Algarve. I am passionate about journalism, radio and everything that involves communication.