Paratrike Flight Experience in Alvor, Portimão
Amazing landscape, stunning views, adrenaline and most of all, top security and professionalism!
Today we went to the air!
Right in Alvor, Portimão, we met Eduardo. He is a certified instructor and today was flying his 45 hp, 48 square meter wing paratrike. We were very well received and soon we were ready to take off.
We went for the 20 minutes flight which goes over some of the best beaches in the Algarve. The beaches have waters with a tonality of green and blue and are absolutely gorgeous specially when seen from above.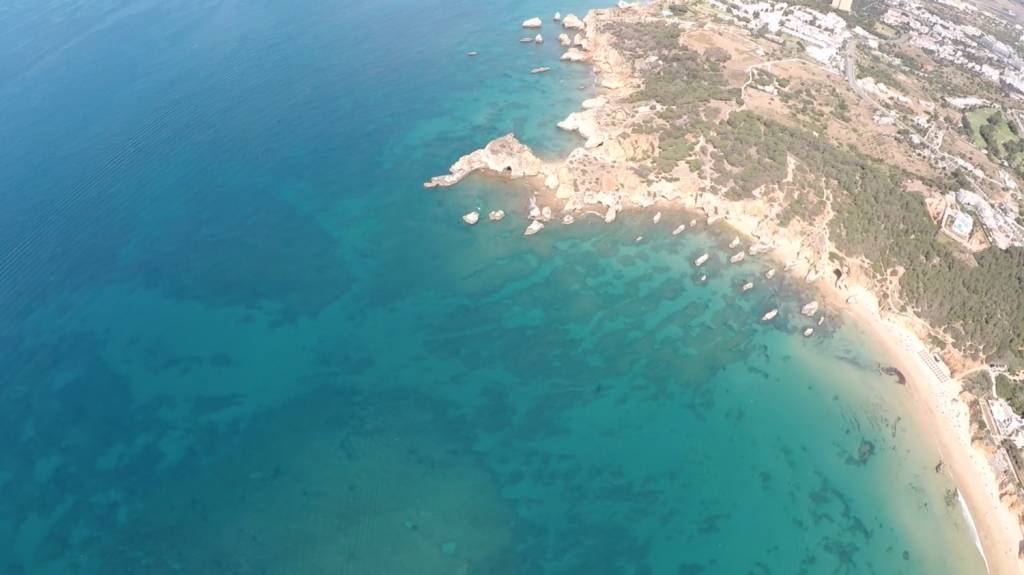 The flight took us all the way until Portimão marina and then back again. Typically this is a 10 minutes flight in each direction, but may depend on the wind conditions.
Up in the air, Eduardo keeps explaining what are you watching and also some technical details of the flight, if you are interested. We could see all the coast from Portimão until Sagres, which is the further south west point in Europe.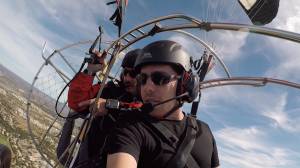 The feeling of flying is quite hard to describe… It's a mix of calmness with adrenaline. This kind of airplanes are very know for providing the real flight experience as you go in an open cockpit and you feel the wind in your face and your legs are suspended in the air!
In a point, Eduardo decided to turn off the engine to show me how magic is it to fly without the engine sound… and it was so nice! The only thing you hear is the wind.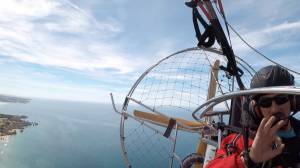 Now was time to get back to the football field where the paratrike took off. But first, there was a question from the pilot:
João, do you want to feel some adrenaline?
With this question my brain waited a while to process, but very soon I accepted and we were doing some acrobatic moves in the air! The curves can reach a 2G force and you feel so heavy and start thinking what would happen if some rope broke… but don't need to worry! Each rope can hold 400 kg and there are plenty of them to keep the paratrike up in the air. Once again, I was sure this airplane is very safe.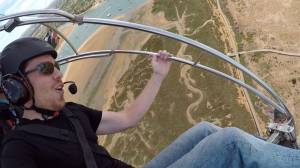 After this amazing part of the flight, was time to land. The landing was also very safe and smooth and I just wanted to go back into the air right away!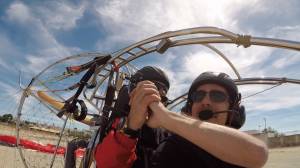 We also did a nice video of this experience for you to feel it with us!
Let yourself feel this truly wonderful experience and book this flight now at experitour.com!
Simply follow this link: https://experitour.com/listings/paragliding-flight-baptism-alvor-portimao/
Keep living and enjoying life!
Post written by Letícia Melo.
Hi there, I'm Leticia! Living in Portugal since 2017, I'm a Brazilian writer passionate about traveling, discovering new cultures, beaches and music! Let's share our best experiences!