(English) Benagil caves – The Best Ways To Visit (2018 Guide)
(English) Benagil caves are one of the most famous ocean caves in the world. Attracting millions of tourists every year, it's the main attraction in the Algarve, Portugal. Learn the best way to visit the Benagil caves with our complete article. From boat tours to kayak tours to the Benagil, you will find the better option!
The Benagil caves are one of the greatest natural attractions in the south of Portugal, the Algarve region. This region is known for being a paradise summer land. Full of amazing beaches, high quality golf fields and the best restaurants, it is the very best destination of the European vacation.
Being cited several times in international newspapers as the Huffington Post, which considered this attraction one of the most beautiful 5 places in the world, the Benagil caves are very popular.
Our guide for the best ways to visit the Benagil caves (2018 edition) will help you choosing the perfect tour!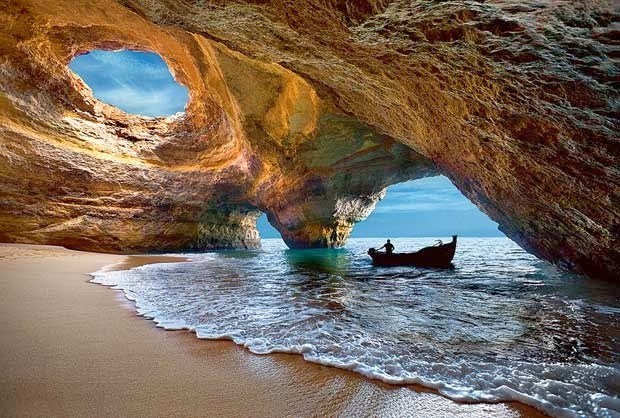 Where are the Benagil caves
The Benagil caves are in the small traditional fishermen village called Benagil, by the Benagil beach. It is located in the Lagos municipality and it's very centrally located in the Algarve. This way, you can make a visit wherever you are staying, in Faro, Albufeira, Portimão, Tavira, Vilamoura, etc.
How to arrive to the Benagil Caves
In what concerns to reaching the Benagil caves, there are many different options adapted to each person's preference. You can take a boat, a kayak, a stand up paddle (SUP) or even swim by yourself! However, swimming may be tricky if you do not have good physical fitness. In the peak of the summer it is also not recommended due to all the traffic of boats at the entrance of the caves.
There is also the possibility to go to the Benagil beach directly by car and try your luck to get a local tour. However, you will find huge waiting lines and may loose your day when you could be having great fun in a more distant tour, which will also take you to other beautiful caves on the way.
Boat Tours
Boat tours to the Benagil caves are one of the most comfortable ways to get there. You can choose between full day barbecue trips, 3 hours tours or even the fastest tour, which last about 1 hour.
Wherever you are, there's a boat departing near you:
In the summer time, the departure times are more frequent. However, even during the winter time you can get a boat tour that will take you to the Benagil caves.
If you like speed and excitement, it's a good idea to take a semi rigid boat. Departing from Albufeira or Portimão, you will have lots of fun and get really close to the caves.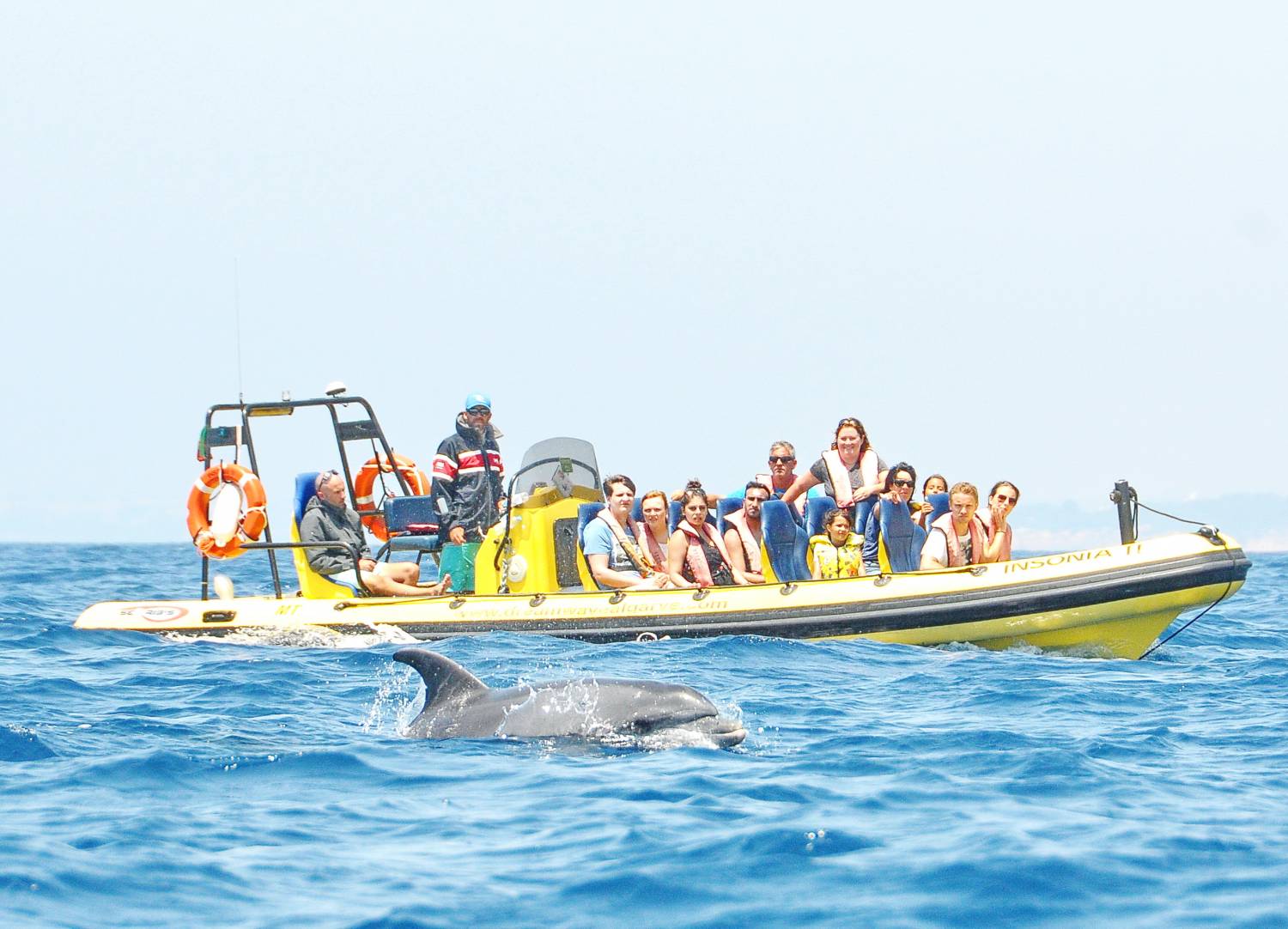 If you prefer a calmer tour with plenty of room to move on the boat and shade, while still getting inside the caves, you should opt for this tour. Despite being a not so small boat, the captain Miguel is very skilled and will take you inside all the important caves. It costs 30€ per adult and 15€ per children and you will be offered a drink on the way! It also includes a stop to swim in the ocean.
What about going on a full day tour with a great typical beach barbecue? You can take a real pirate boat from Portimão, join captain Miguel and have a barbecue after his great tour, or even get into a catamaran departing from Vilamoura.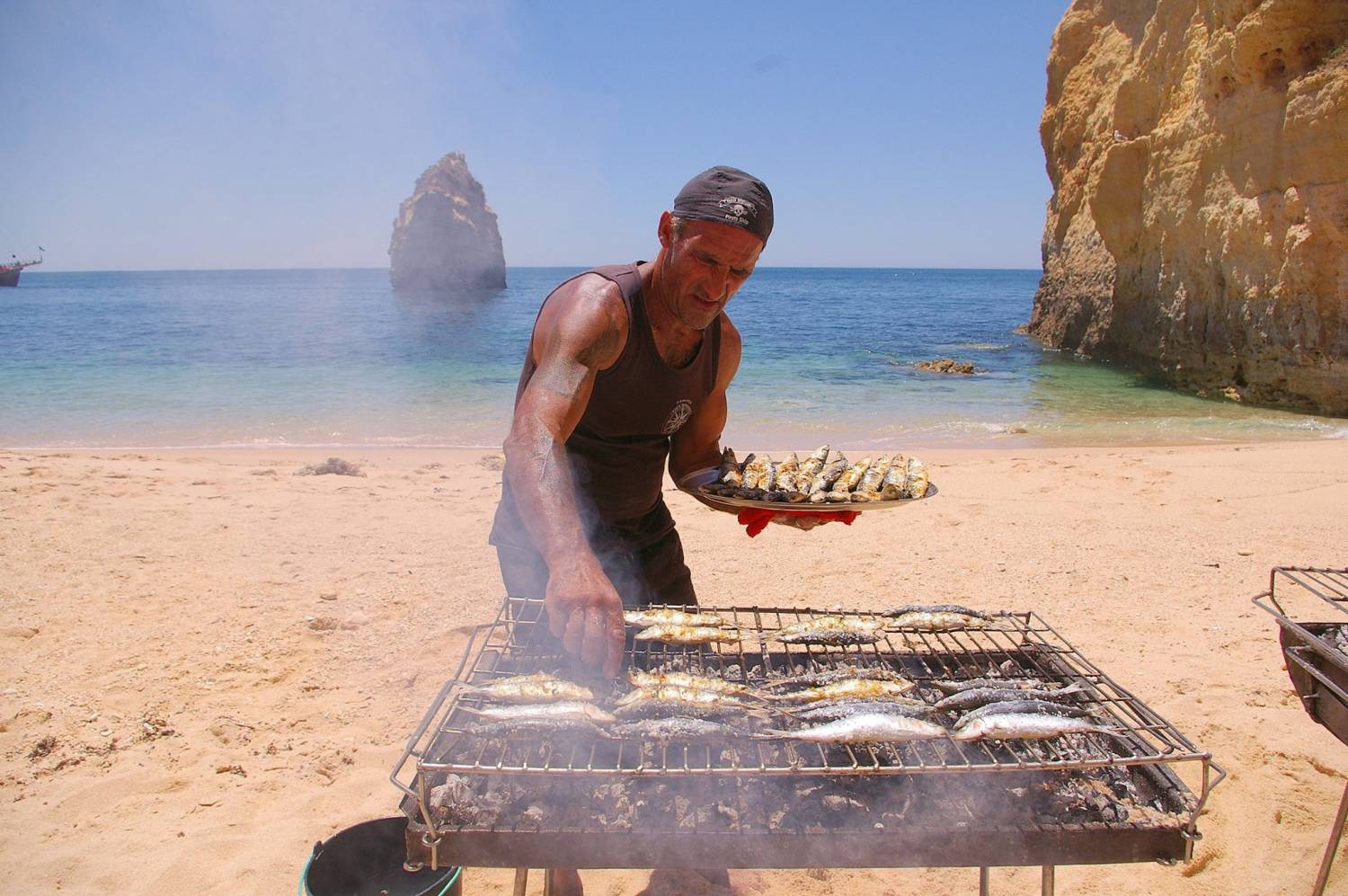 If you like traditional fishermen boat and a shorter (and cheaper) tour, you better get a boat from Armação de Pêra. Having a couple of tours to choose from, you have very high chances of getting your boat trip there, specially in the summer peak.
Kayak Tours
Kayaking into the Benagil caves is somehow a magic feeling. You feel closer to the nature and can decide where to go. Although it's a guided tour, you have some freedom degree to explore around.
It is also recommended if you would like to spend more time inside de caves, since most boat tours will be able to let you go to the sand in safety, specially in the peak of the high season.
Costing around 25€ per person (2 people per Kayak) and having a duration of approximately 2h30, this is a great option in terms of cost, freedom and health!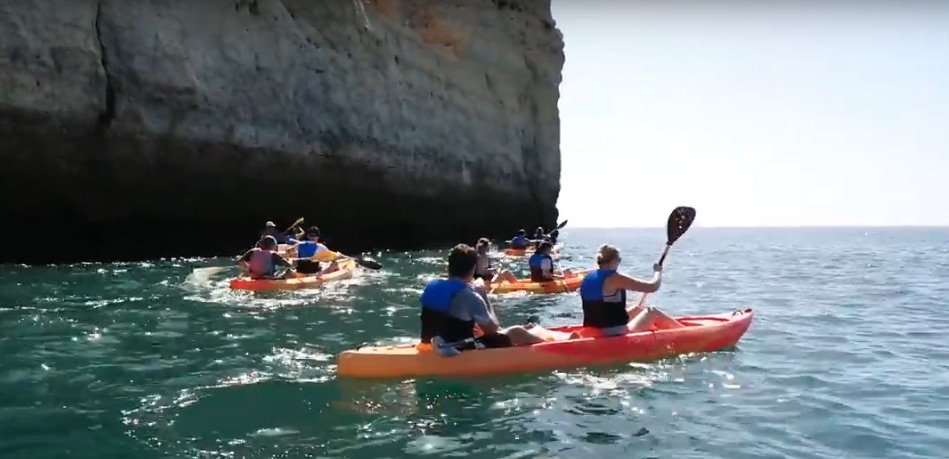 SUP Tours
SUP (Stand Up Paddle) tours to the Benagil caves are similar to the kayak tours, but you go standing over a SUP board. While the tour is more or less the same as the kayaks, you will be extremely excited with the paddling technic and will try not to fall to the water. You can be sure this is a great adventure.
Costing about 40€ (50€ in the high season – 1st of June til mid September), this option is a bit more pricy, but 100% awesome and people tend to love it!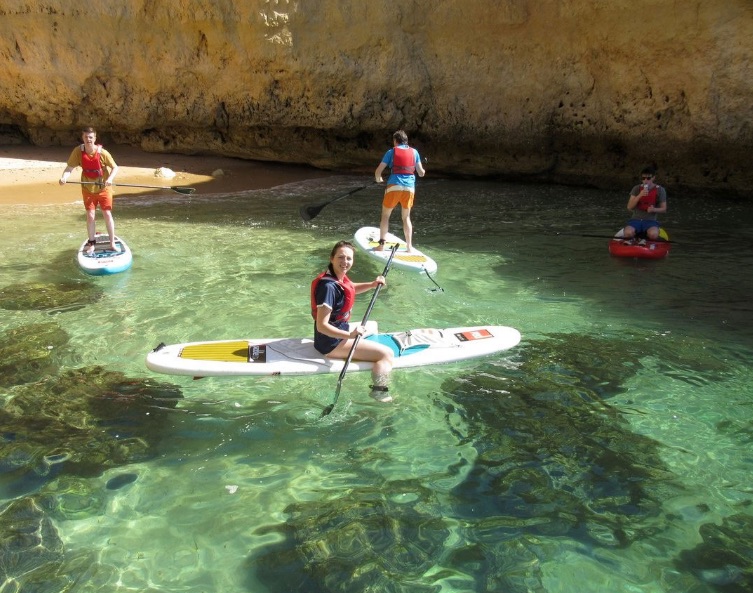 How to take great pictures inside the Benagil caves
Since you are going to the most beautiful sea caves in the surrounding, you better know how to take perfect pictures inside the caves. Being a place full of contrasts between shady and sunny areas, taking good pictures can be quite a challenge!
What better than receiving pro tips from a professional photographer who's been there taking wonderful pictures? Meet Christoph Papenfuss, a professional traveling the world with his camera and taking awesome pictures. He's been inside the caves and here are some of the best tips:
A normal camera will struggle with the high contrasts.
You will need a fisheye to be able to photograph the whole cave in one picture. Even a 12mm wide angle did not really work for him.
HRD technic is a good option to compensate the big contrasts.
If you will take your expensive SLR, don't forget to take it inside a waterproof bag.
Here is a great picture taken by Christoph: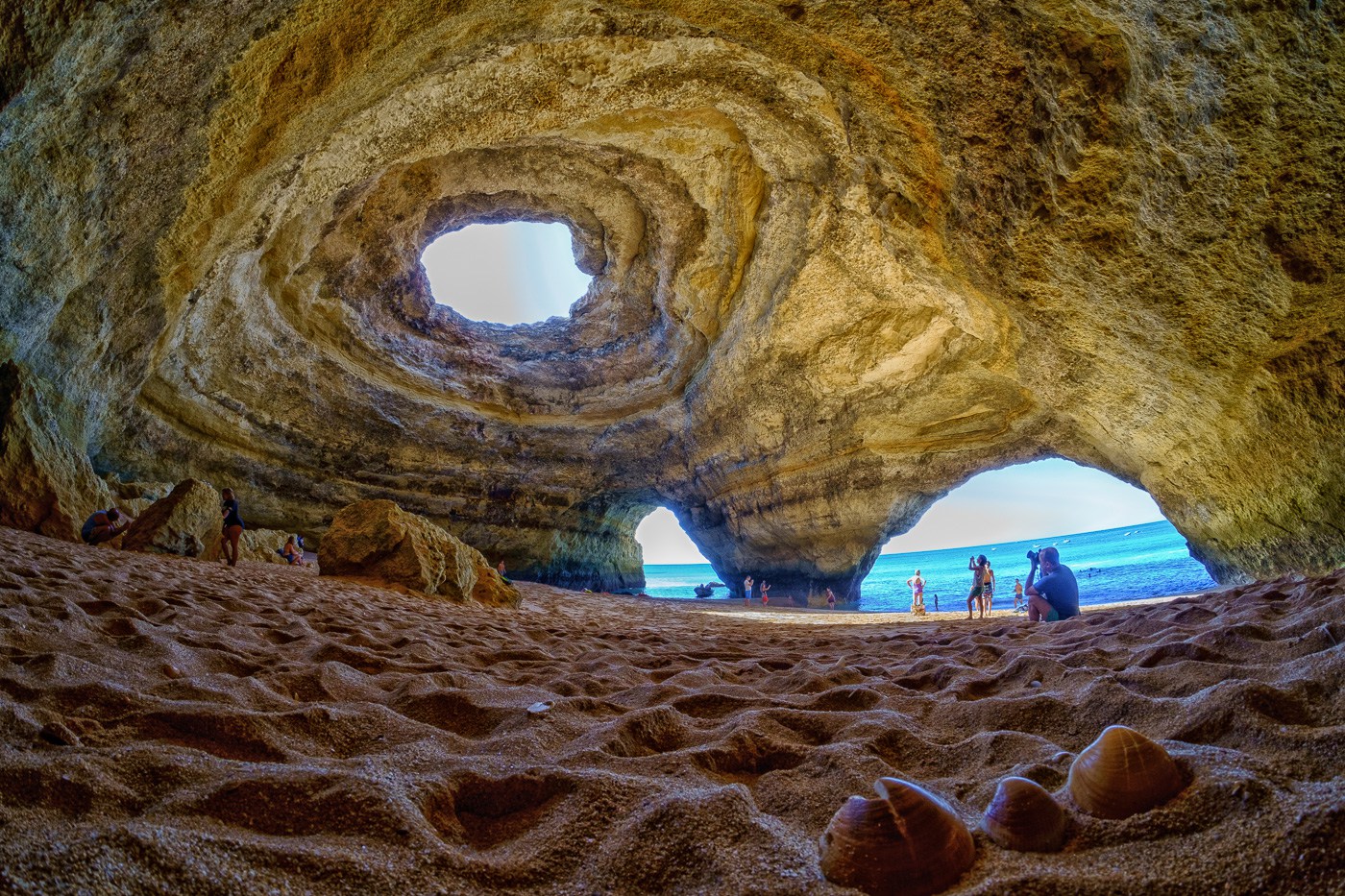 Book your tour online and skip the line
Now that you have all the updated information, it's time to book your tour online to be sure you have a seat when you want. Use our Benagil caves guide and have fun!
algarvebeachbenagilbenagil caveboatkayakportugalPost written by Letícia Melo.